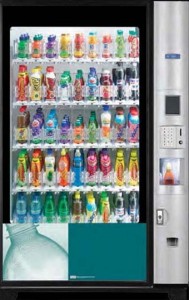 Cold Drinks Vending
The cold drinks machine can hold a total of 495 drinks with 45 different selections. This attractive machine has a clear front glass for easy viewing.
It's a convenient solution for any busy environment as it will produce chilled drinks in an instant.
Download the PDF brochure for the cold drinks vending machine.
Food Vending
The food vending machine supplies a 24 hour refreshment service for a variety of foods and snacks. As this machine offers easy filling, simple programming and flexibility, it promises to be the most convenient way of vending food for any busy working environment.
Download the PDF brochure for the Food vending machine.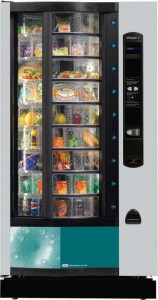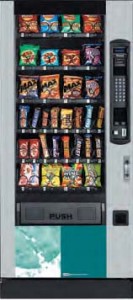 Snack Vending
The snack vending machine offers 24, 32,40 and 55 selections. It can hold well known branded snacks, giving lots of options and variety that people can choose from.
These machines are fully refridgerated with a clear glass front that displays all the different selections the machine has to offer.
Download the PDF brochure for the Snack vending machine.
Combination Vending
The Combination vending machine can vend all kinds of drinks, crisps, chocolate and healthy items, giving a great variety of choice all in the one machine. As this machine has the capability of vending a variety of things in one machine it doesn't compromise space, you can have anything you want from one location.
These machines are chilled to give a refreshing taste at your convenience. If you are looking for an attractive, adaptable and versatile way of vending, then this is the machine you need.
Download the PDF brochure for the Combination vending machine.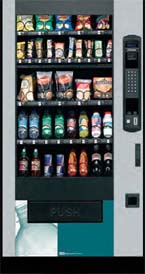 Click Here to view our range of hot drinks vending machines. | For more information or prices, please don't hesitate to Contact Us